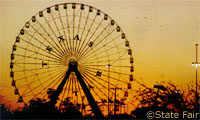 Make Love In Dallas and Fort Worth
Romantic Things To Do
In Dallas and Fort Worth there are several romantic possibilities, depending on your personal tastes. There truly is something for everyone.
Be a Kid Again
Escape from the adult world of responsibilities, and let your inner child out. The view from the top of a ferris wheel is very romantic, and a great place to kiss. Go careening down a water slide, throw a dart and win a stuffed animal, or play mini-golf. Remember how attractive someone is when they are having a laughing good time with you.
Six Flags Over Texas-Arlington
Zero Gravity-Dallas For the extremely adventurous
Sandy Lake Park Also a great place for picnicking
Fair Park Home of the Texas State Fair
Take a Walk in the Park
Stroll along along a verdant path, holding hands and taking time to smell the flowers. Feed the ducks. Lay in the grass and play the cloud game.
For more ideas of what to do in Dallas and Fort Worth, check out GuideLive

Home

Find Love